Aaki Consultants Ltd Info , Address, Contacts, Description, Phone Numbers, Social Media Links & More :
Listed In : Architects , Landscape Architects , Urban Planning
About Aaki Consultants Ltd
Aaki Consultants Ltd is located at Dale House along Rhapta Road, Westlands , Nairobi. Aaki Consultants Ltd deals in products, goods, merchandise, services and activities related to Architects, Landscape Architects and Urban Planning. Available contacts, description, overview, phone numbers, mobile numbers, website, social media links information for Aaki Consultants Ltd is detailed below.
Aaki Consultants Ltd Contacts & Related Links :
Street/Road :
Rhapta Road, Westlands , Nairobi, Kenya
Locality :
Westlands Area
|
Mobile Numbers :
+254 0715 167090
Key People : Francis Mungai (Partner, Founder), Kariuki Muraya (Partner)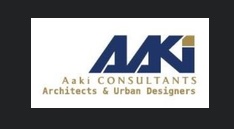 Aaki Consultants Ltd Description & Overview
Aaki Consultants Ltd is a firm of consulting Architects with a track record of undertaking projects of varied sizes and complexity of more than 25 years.Its specializations are in are the provision of Architectural and Interior Design services.
Licensed & Supervised By(1)